SERVICE TIMES*
Sundays | 9 AM & 11 AM
Wednesdays | 6:30 PM
*We are so excited to welcome our babies and 2 year old's back on January 3rd! We are looking for some new volunteers to love on our little ones.
Email us
if you are interested in serving in nursery or any other ekids classroom!
E-kids serves kids and their families from infancy through grade 6. It is our passion to provide ministry programs that help kids experience for themselves who God is, how He sees them, and how much He loves them. It is our privilege to partner with families to support the spiritual leaders of our homes. Together, we can help kids grow as lifelong followers of Jesus Christ.
eKids At-Home Lessons
Click here
to find everything you need to lead your family in our at-home eKids Service. We have a bible story video for Preschoolers, Elementary kids and Preteens. You will also find a parent activity guide which will walk you through leading your kids in a fun activity to reinforce the lesson.
Weekly Emails
Subscribe
to receive weekly content from our team.
Social Media
Follow us on
Facebook
and
Instagram.
Baby Dedications
Would like to have your child dedicated? Sign up
here
for the next date.
Every Sunday I feel so lucky to be with the children--to teach and to encourage them, to laugh and to cry with them, to witness first-hand the beginning phases of their journey with God. But the truth of it is that they teach and inspire me much more than I could ever do them.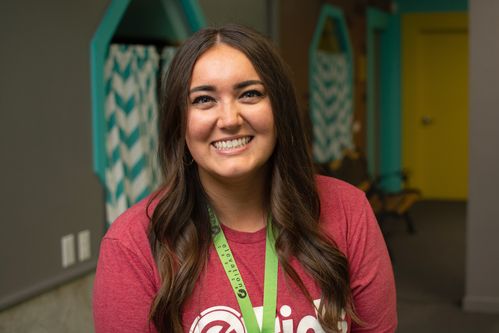 It is my goal to create a fun, safe and engaging environment that cultivates spiritual growth. I am honored and blessed to partner with what God is doing in the lives of our children and their families.
The Garden | Infants & Crawlers
While parents enjoy service, they can rest assured that their babies are receiving personal care in a safe and loving environment. Our goal every Sunday is to create a positive church experience by displaying the love of God to each and every infant.
The Park | 1 -2 years old
Our toddler ministry at Elevation is designed to provide interactive learning experiences in a fun and safe environment. Our goal is to begin to form foundational truths from the Word of God by teaching the children about the life of Jesus and other people from the Bible.
The Clubhouse | 3-4 years old
Our preschool ministry continues with foundational truths. We are teaching our preschoolers that God made them, God loves them and Jesus wants to be our friend. We incorporate worship into our time together and small groups to learn more in depth about God's Biblical truth.
The Street | 5-6 years old
Our Pre-K and Kindergarten classes are designed to develop every part of a child- spirit, soul, and body – through media filled Bible Lessons and teaching, worship, prayer, and hands-on activities that will help them learn the Word of God in a fun and exciting way.
The Garage | 7-12 years old
At eKids we believe the Bible should never be boring! Worship can be really loud, and good leaders always care. We want kids to see how God's Word fits in to their lives, to learn how to talk to him, and to build friendships that will last.